Beyond the Nation State I want to Dream (excerpt), HD Video, 19'00'', 2018, by Dorine van Meel
Music and sounds produced and performed by Jesse Osborne-Lanthier and Olle Holmberg
Voive-over by Therese Ladegaard Henningsen


Silent Echoes

Performance event, Extracity, Antwerp, 15 October 2022
Solo exhibition, Die Digitale, Düsseldorf, 7 October - 22 October 2022
Performance event, South London Gallery, London, 29 June 2022
Solo exhibition, Pylon Lab, online, November - December 2022

Video and performance piece
Developed in collaboration with sound artist Sami El-Enany
With poems by Khairani Barokka, Jamaica Heolimeleikalani Osorio and Serie Barford
With a song by Ucetōt Lorok

And darkness arrives early,
but who is there to witness.
The approaching shadows play,
a gentle dance of planets.

Silent Echoes consists of a series of live performances and a video installation and is developed in collaboration with sound artist Sami El-Enany. The project includes poetic and musical contributions by artists, writers, singers Khairani Barokka, Jamaica Heolimeleikalani Osorio, Serie Barford, Selina Neirok Leem and myself. The work is a collaborative effort and develops over time on different platforms, accumulating contributions.

Silent Echoes addresses the climate crisis through these various poetic contributions written by poets and activists who come from different islands across the Pacific Ocean. Each poem highlights different ways in which the climate crisis unfolds on these islands through the workings of (neo-)colonialist practices past and present. Whether it is because of the poisoning of the water due to the presence of military remnants from World War II, because of the clearing of the original forests and the planting of endless fields of palm trees for the production of palm oil, because of the suppression of the language and culture of the indigenous population by the colonial settlers or because of the nuclear tests that were carried out on the atolls without any regard of the people living there. As much as these poems mourn the loss of life – in all its different forms, they also speak of resistance, endurance and cohabitation, and offer a hopeful view for our world in the face of a dark present and an uncertain future.

The images that accompany the many voices show computer generated islands in which digital waves turn into digital grains of desert sand, presenting the viewer with a dystopian vision, in which an unfolding ecological catastrophe is implied.

Silent Echoes has received financial support from the Mondriaan Fonds

In the Eye of the Storm, Research Group, Rile*, Brussel, 27 October, 10 November and 24 November 2022

In "In the Eye of the Storm: Understanding the climate crises through the work of Caribbean thinkers and Pacific poets" we will discuss the work of different theorists, artists and activists who analyze the climate crisis through the lens of (neo)colonialist practices that have devastated the different islands on which they and their ancestors lived. The wreckage of their present casts its dark shadows far into the future and far beyond the locality of these specific islands. We will come together to understand the connection between the poisoning of the drinking water in Hawaii, the radiation that continues to sicken the people of the Marshall Islands and the military bases that are built on Guam. To understand the ways in which colonialism and racial capitalism have started an ecological disaster that by now has taken a global scale. Prior to each session we will read a theoretical text in combination with a poem.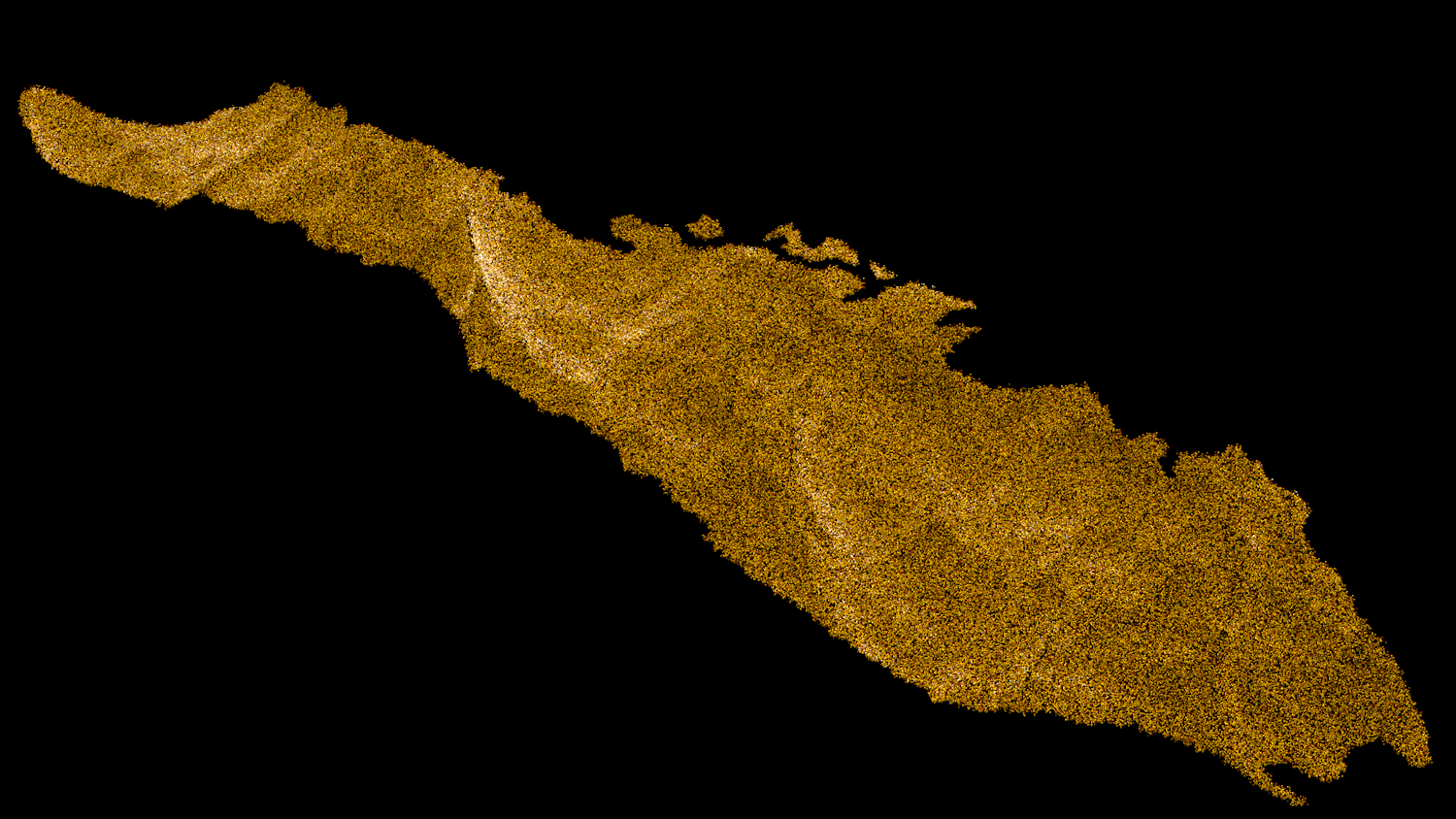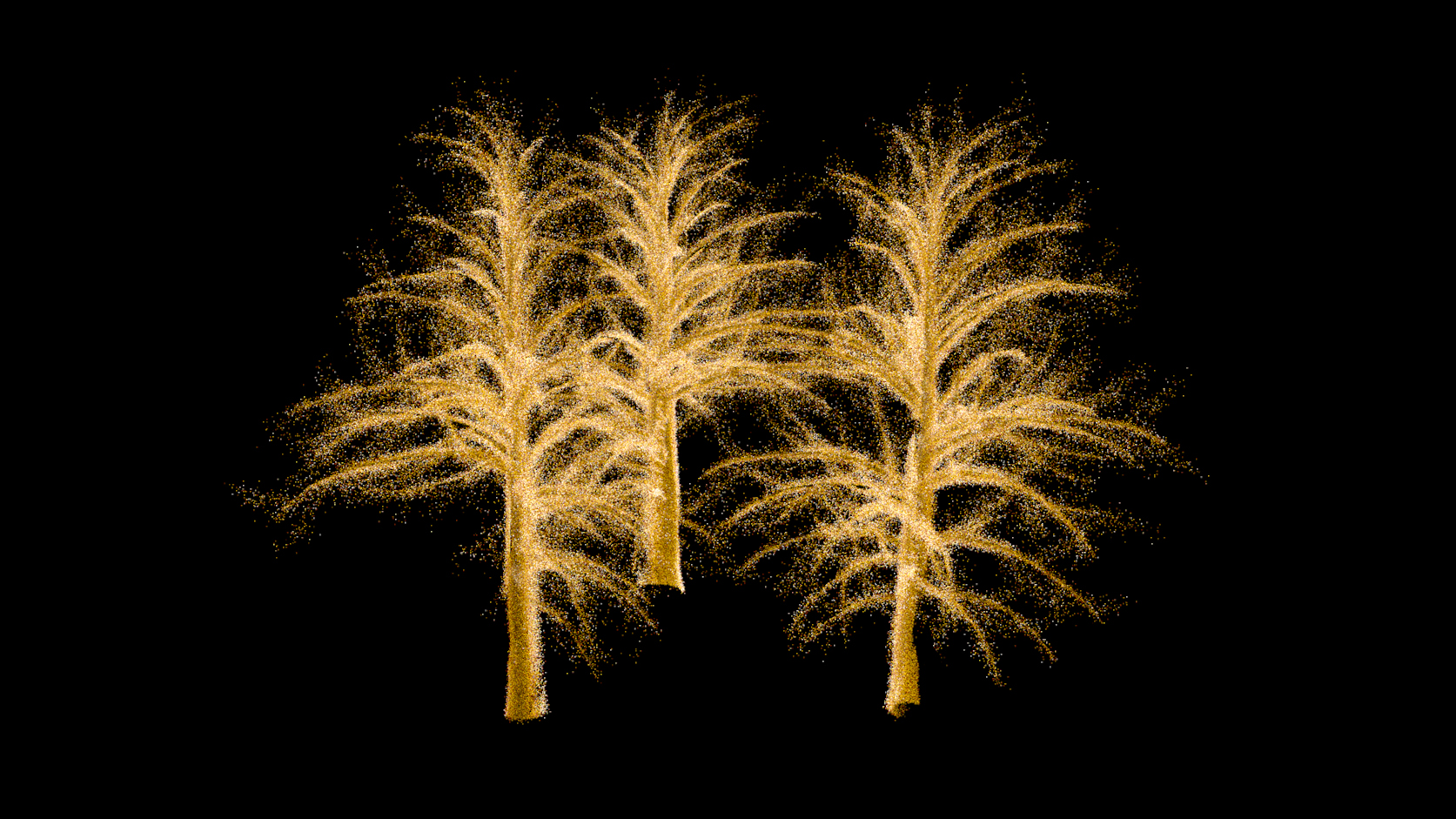 Plural Wombs

Which structures have to end to make room for liveable ways of being together?
(Michelle Murphy)

Plural Wombs is a collaborative project that brings together a number of cultural practitioners, theorists and activists working on the subjects of social reproduction, reproductive justice, and the political dimension of parenthood. In confronting these subjects, we are committed to a multi- gendered feminist approach and the exploration of different possibilities of familial relations beyond their bourgeois, patriarchal and heteronormative forms. The project consists of small-scale workshops that take place in different locations and on various platforms.

Plural Wombs Writing Group, Galerie Futura, Berlin, September 2022

In the fall of 2022 we collaborated with Galerie Futura in Berlin and organised another series of workshops led by Tina Omayemi Reden, Marija Cetinić and myself.

Plural Wombs Research Group, diffrakt, Berlin and Kunstfort bij Vijfhuizen, Amsterdam, June - July 2020

The second series of three workshops was organised in direct collaboration within diffrakt's reading group programme as well as Kunstfort Vijfhuizen and took place online in 2021 under the title Plural Wombs Research Group.

In the first session of the Research Group, the Brazilian artist Luiza Prado introduces the work of the environmentalist, indigenous rights activist and writer Ailton Krenak and discusses its relevance to her own practice. Watch the presentation here.

The second session of the Research Group is be led by writer, educator Lesley-Ann Brown, author of Decolonial Daughter: Letters from a Black Woman to her European Son, who will discuss the work of bell hooks and Resmaa Menakem and the effects of white supremacy on the body. Watch the presentation here.

The third session of the Research Group is be led by curator, writer and independent scholar Kathy-Ann Tan, who will discuss Hortense Spillers' well-known essay "Mama's Baby, Papa's Maybe: An American Grammar Book" (1987) and the poetry of Dionne Brand. Watch the presentation here.

Performance event, W139, Amsterdam, 11 January 2020

From the empty corners of your darkened room
you hear them call for plural wombs
to breath the need for different beings
to join the fluid, to birth the many

The first workshop was hosted by the W139 in Amsterdam in January 2020 and led by Staci Bu Shea and ida Hillerup Hansen, followed by a performance event with contributions by two members from ANTI-BODIES: Dania Awin and Nguyễn Thị Mai, Mijke van der Drift, Sandra Walusimbi Nanteza, Dorine van Meel, Staci Bu Shea and ida Hillerup Hansen.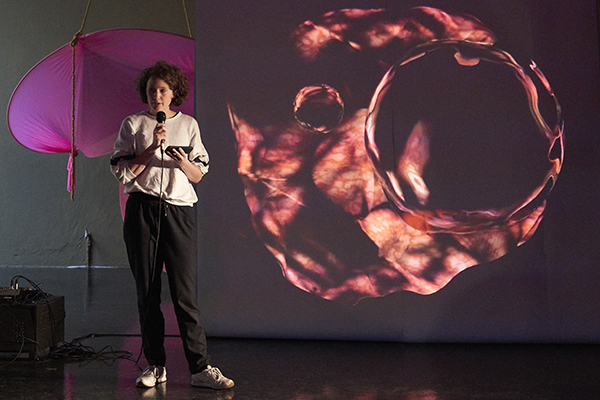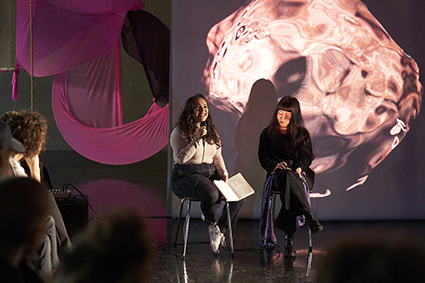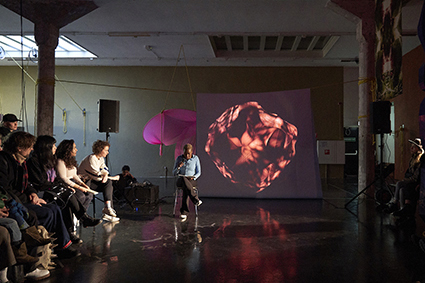 Phoenix's Last Song

Solo exhibition, Hotel Maria Kapel, Hoorn, 8 February - 1 April 2019
Performance event, Nottingham Contemporary, Nottingham, 2019
Screening, 36th Kassel Docfest, Screening, KulturBahnhof Kassel
Solo exhibition, Galerie Futura, Berlin, 24 September - 4 November 2022

My child, my child, you will be born,
out of the powder that is my ashes.
And you shall be, child of your mother,
you will not turn away your face.

I will teach you how to smile, but not in service of men.
Show you to be strong, but not in order to dominate.
And if you play the trumpet, it will not be for the battlefield.

In Phoenix's Last Song the viewer is presented with the legend of the paradisaical bird who descends to earth in order to die. Whilst the sun sets fire to the pyre of twigs on which she lays, the phoenix sings a song to the child that will be born from her ashes. Her words are a call to think and live against the patriarchal, capitalist and colonial power structures that define the world as we know it. The text draws on the work of feminist thinkers like Audre Lorde, Adrienne Rich, Simone de Beauvoir en Emma Goldman, who each look at the ways in which institutions like the bourgeois family, state education, the legal apparatus inscribe the child within these power structures. Against this background, Phoenix's Last Song opens up a space to imagine how a new world may arise out of a burning of the old.

The work has also been shown at Nottingham Contemporary and included a performance that was developed and performaned together with writer Jules Sturm.

With original music by Sami El-Enany; with a voice-over by Emma Bennett
Phoenix's Last Song has been made possible through additional financial support from Stichting Stokroos.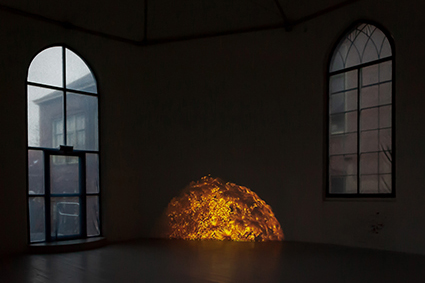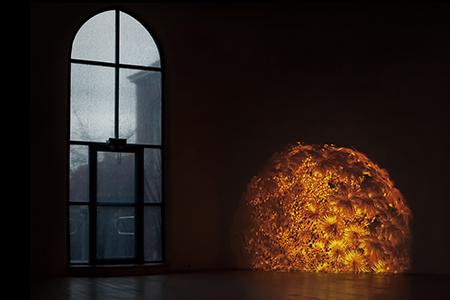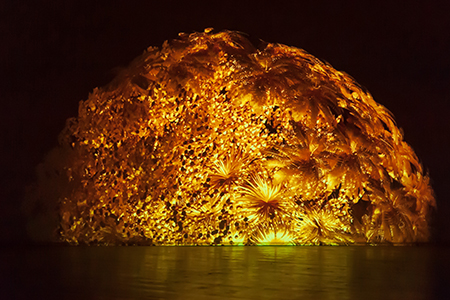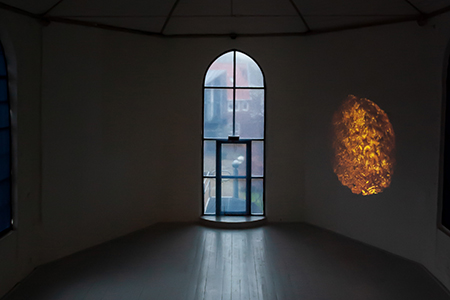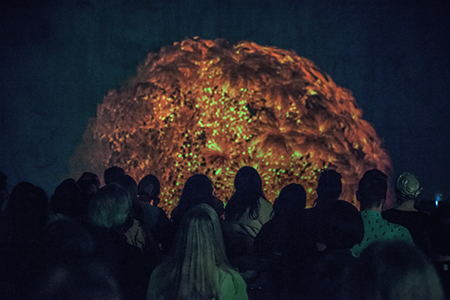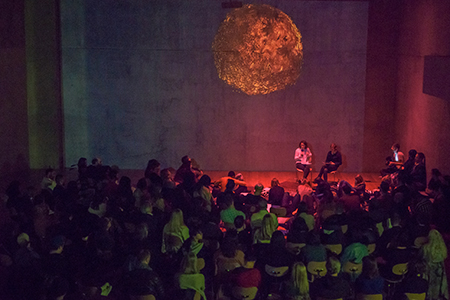 Beyond the Nation State I want to Dream

Solo exhibition, Decad, Berlin, 18 July - 30 September 2018

Oh yes, I will practice my canon proudly, a golden image of stark blue skies, of dams and dykes and waterworks, masters and guilds, and how they transformed into dedicated directors, offshore engineers, shiny-looking cars on lease claim our streets, with logos of well-designed brands stuck to their windows – one empty baby seat in the back.

The video work deals with the construct of nation states and national identity in Europe, examining the binaries and mechanisms of exclusion at work in the constitution of a 'we'. Consisting entirely of slowly decomposing and recomposing computer-generated images, the video juxtaposes apparently innocuous representations of national identity with sites on which the intersection of nationhood, colonialism and imperial conquest have been made manifest. These sites range from Fort Elmina, the first European settlement in West Africa, to the room in which the 1884 Berlin Conference took place. Such imagery is accompanied by a dream-like monologue wherein the narrator attempts in vain to escape from a present in which the historical violence of the nation state is perpetuate in the most mundane aspects of everyday life.

Music and sounds produced and performed by Jesse Osborne-Lanthier and Olle Holmberg; with a voive-over by Therese Ladegaard Henningsen.

Beyond the Nation State I want to Dream has been made possible through additional financial support from the Mondriaan Fund.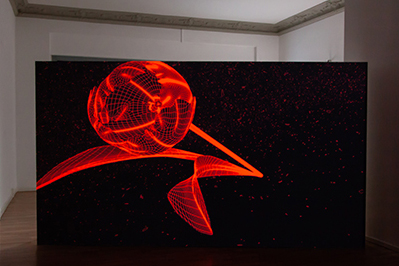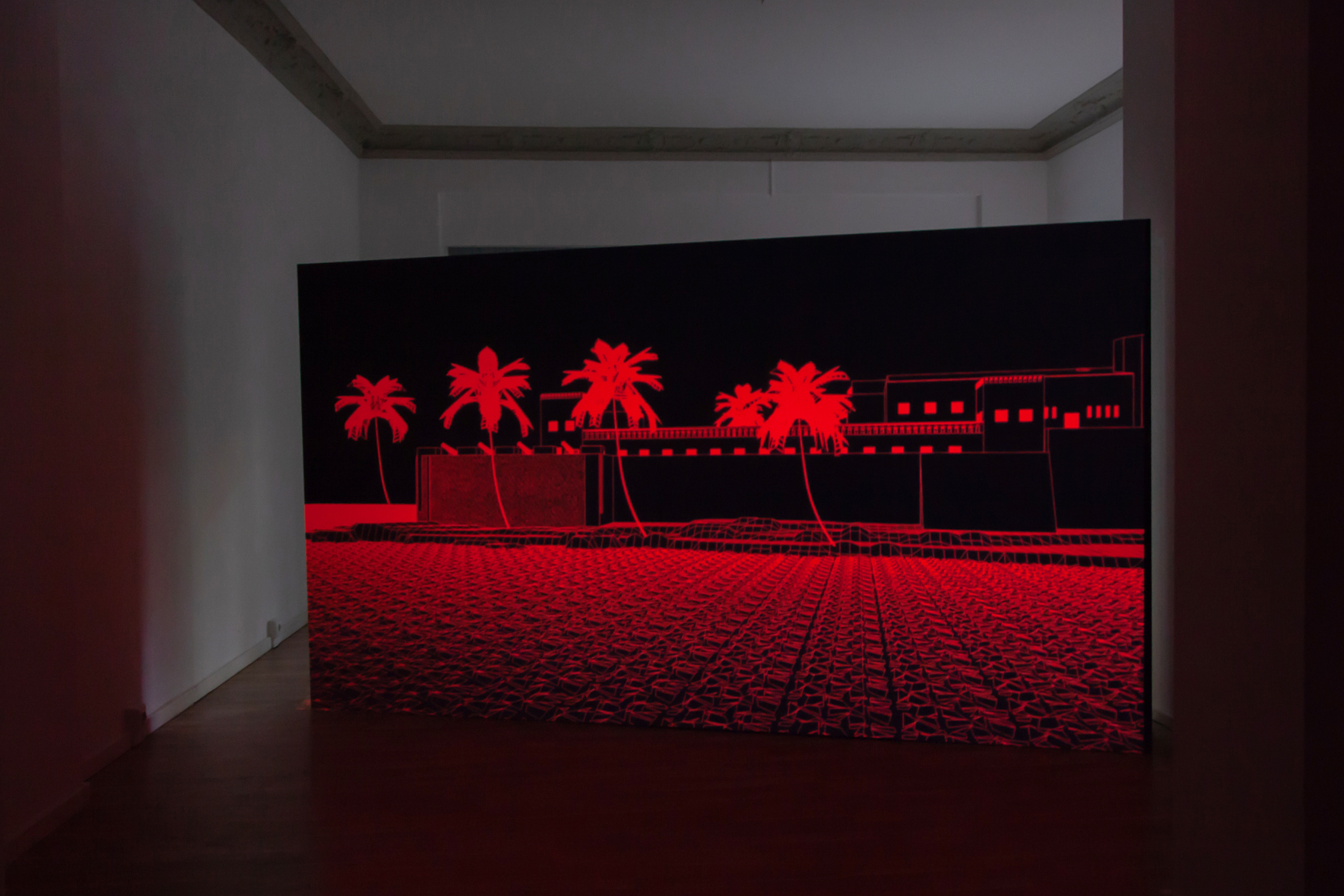 A Farewell to Progress

Performance event, South London Gallery, London, 2 March 2018
Performance event, KW, Berlin, 7 December 2017

Because this, you see, is a farewell to progress, to then and to there. To one day, to some day. A farewell to what you called an impossibility, an implausibility. Unfeasible. Unworkable. It is a farewell to logical, to rational. To well-meaning and well-meant.
For our dreams will be wild, will go beyond your confident smiles, your civilising lines, your whispered lies.

This project has brought together artists and writers in different cities / political contexts for an evening of readings in which they look at the western capitalist and colonial narratives of "progress." Pointing to the harmful underlying ideologies of progress, the contributors demand its dismantling. They ask how one can relate to a "future" if the narrative of progress is abandoned. These readings re-think not only one's possible relations to a future, but also how one might relate to the present.

First collective iteration co-curated with Caspar Jade Heinemann i.c.w. Mason Leaver-Yap. This instalment includes spoken contributions by Jessica Aimufua, Caspar Jade Heinemann, Dorine van Meel, Hannah Proctor, Wanda Vrasti and a new video animation by Dorine van Meel.

Second collective iteration includes spoken contributions by Rose-Anne Gush, Dorine van Meel, Naomi Tattum and Wail Qasim and a new video animation by Dorine van Meel.

A Farewell to Progress has been made possible through additional financial support from the Mondriaan Fund.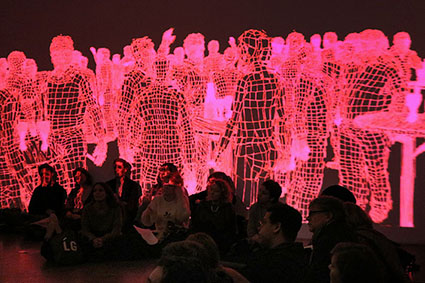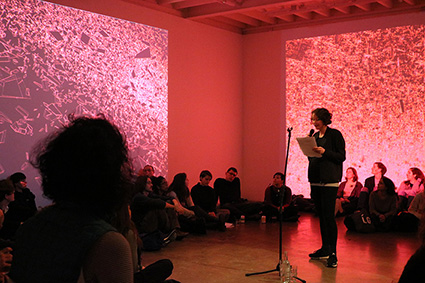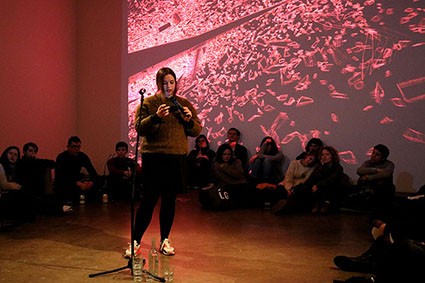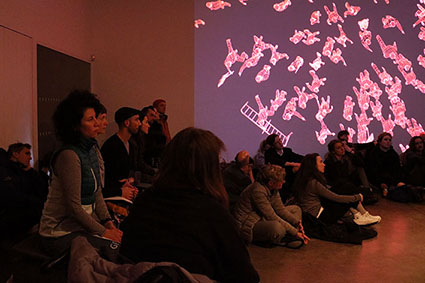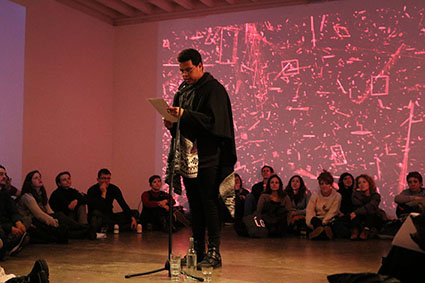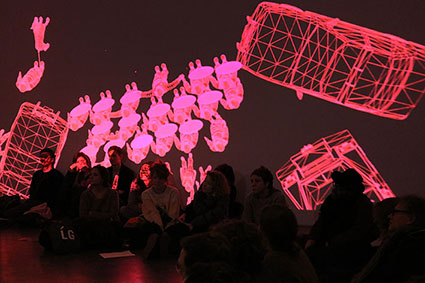 Gentle Dust

Performance event, Berlin Biennale X, August 2018
Solo exhibition, Showroom MAMA, Rotterdam, September - October 2017
Performance event, ROOM Gallery and Projects, Johannesburg, October 2016
Performance event, Jupiter Woods, London, August 2016

And so, gently the dust will fall, upon the carelessly wrapped paintings. And gently the colours on the canvas, they will fade away. Images of soup cans, guns and flowers, they will fade away. And gentle dust will fall upon the seamless glass vitrines, scattered pedestals, high security cameras. Gentle dust, upon the long forgotten sculptures, abandoned in the corners of the wide quiet cubes.

Gentle Dust imagines and stages the desertion of the museum of modern art through performative readings, a video installation and music. The museum of modern art is understood here as a symbol, historically and presently linked to the colonial matrix of power. The live performances respond to the question of how we can disengage from the narratives that are told and taught by these museums. The project is understood as the beginning of a dialogue in which we, as a multiplicity of young art practitioners, foreground the stories, perspectives and questions that have a special urgency to us in this time of crisis.

First instalment co-curated with Rianna Jade Parker at Jupiter Woods in London. This instalment includes spoken contributions by Rianna Jade Parker, Isaac Kariuki, Imani Robinson and Caspar Jade Heinemann, a video animation and text by Dorine van Meel, original music to the video by Sami El-Enany and voice-overs by Emma Bennett and Holly Pester

Second instalment organised i.c.w. Mbali Khoza at ROOM Gallery and Projects in Johannesburg. This instalment includes spoken contributions by Thato Magano, Sipho Charles Gwala, Senzo Brian Sibisi and Natasha Jacobs

Third instalment co-curated together with independent artist-curator and writer Rianna Jade Parker at Showroom MAMA in Rotterdam. New contributions to the video by Susu Amina, Tirza Balk, Yakari Gabriel, Abdel-Rahman Hassan and Alina Jabbari. Events organised by Rianna Jade Parker i.c.w. Hudda Khaireh, as well as Natalia Sorzano i.c.w. Nathalie Hartjes and MAMA's Artistic New Talents. New performances by Pelumi Adejumo and Albinus. The exhibition also includes a 'reference space' that contains key texts and imagery compiled by Rianna Jade Parker.

Gentle Dust concluded at the Berlin Biennale with life performances by Abdel-Rahman Hassan, Alina Jabbari, Dorine van Meel and Ibrahim Cissé together with Sami El-Enany.

Gentle Dust has been made possible through additional financial support from the Arts Council England, the Dutch Embassy in London and the Mondriaan Fund.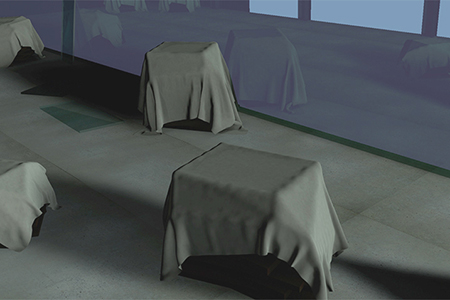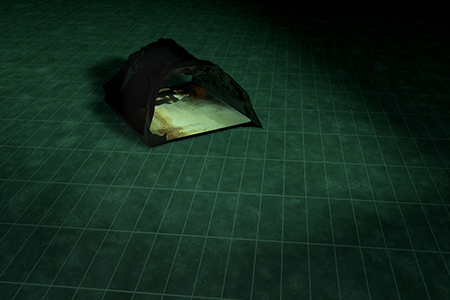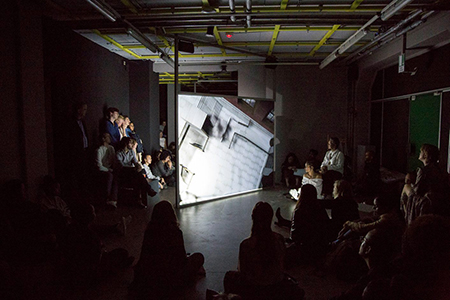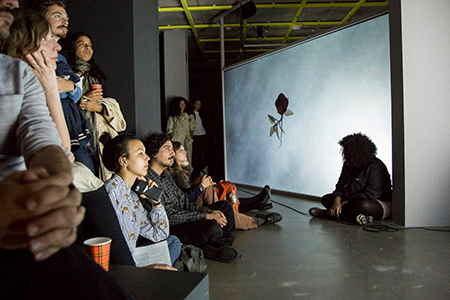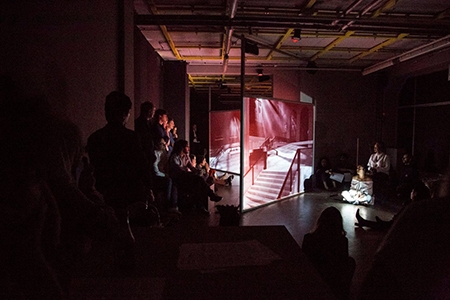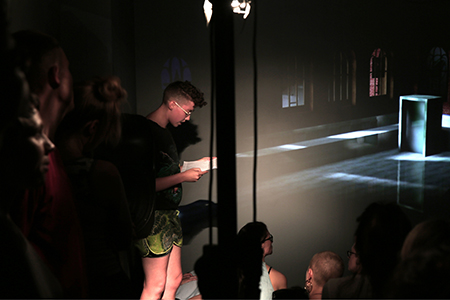 The Southern Summer School

Summer school, BAK, Basis voor Actuele Kunst, Utrecht
Workshop programme: Bijlmer Parktheater, Amsterdam,
Peach, Rotterdam,
Helicopter, The Hague,
16 June Interpretation Centre, Soweto,
ROOM Projects, Johannesburg,
Iranti.org, Johannesburg,
The South London Gallery, London,
Jerwood Space, London,
e.a.
October 2016 - February 2017

The Southern Summer School is a self-initiated and collective project that brings together art practitioners and cultural workers based in South Africa, the Netherlands, and the United Kingdom. With this project we want to interrogate what it means for us as art practitioners to actively challenge eurocentric paradigms in the art world, how we can form relationships of solidarity and exchange across national boundaries, and work towards creating non-normative spaces open to a multiplicity of stories, histories, languages, cultures, voices, and sounds.

In the four months leading up to the summer school, a program of preparatory workshops was organised in various art venues across South Africa, the Netherlands, and the United Kingdom. These workshops are open to the public and organized by a range of artists, theorists, and activists who address questions of decolonization and social justice within their respective practices.

The project is initiated together with artist Nelmarie du Preez and organised i.c.w. cultural critic and writer Egbert Alejandro Martina, curator Khwezi Gule, artist Simangaliso Sibiya, curator Rachael Harlow and artist Abri de Swardt

The project includes workshops, lectures and screenings by Egbert Alejandro Martina, Imara Limon, Yvette Mutumba, Simone Zeefuik, Teresa Maria Diaz Nerio, Wayne Modest, Gloria Holwerda-Williams, Marjan Boelsma, Miguel Peres dos Santos, Inez Blanca van der Scheer, Jacqueline Tizora, Mbali Khoza, Khwezi Gule, Thato Mogotsi, Ashley Whitfield, Molemo Moiloa, Donna Kukama, Kabelo Malatsie, Same Mduli, Jabu Pereira, Tabita Rezaire, Market Photo Workshop, Maria Fidel Regueros, Phoebe Davies, Nandi Bhebhe, Ibrahim Cisse and Cedric Fauq

Interview with Khwezi Gule and Simangaliso Sibiya in Metropolis M

Interview with Simangaliso Sibiya by Zippora Elders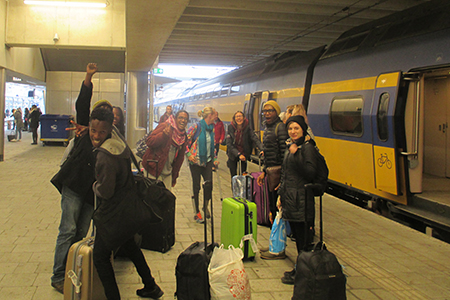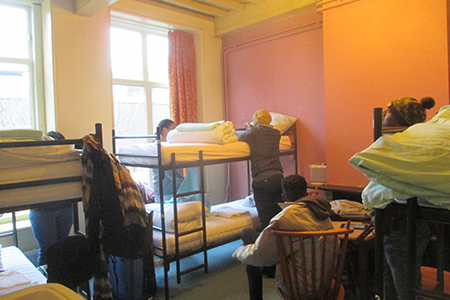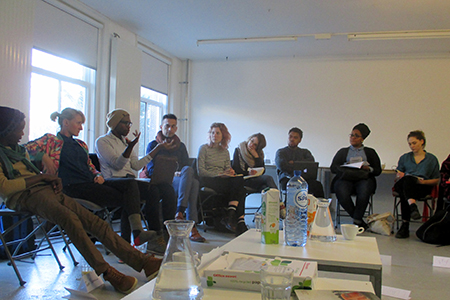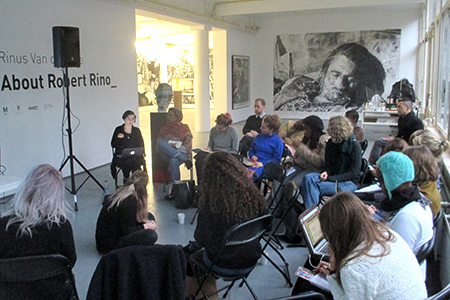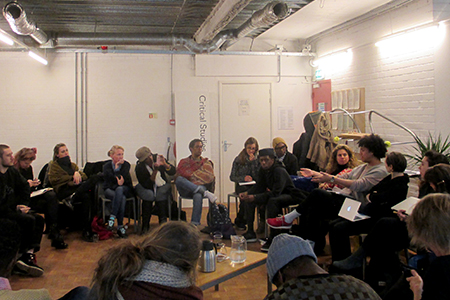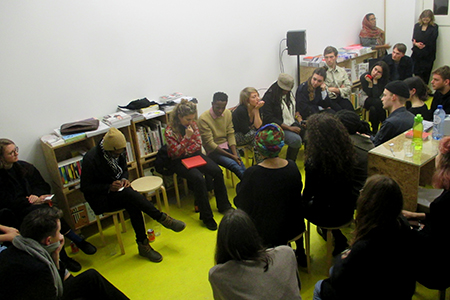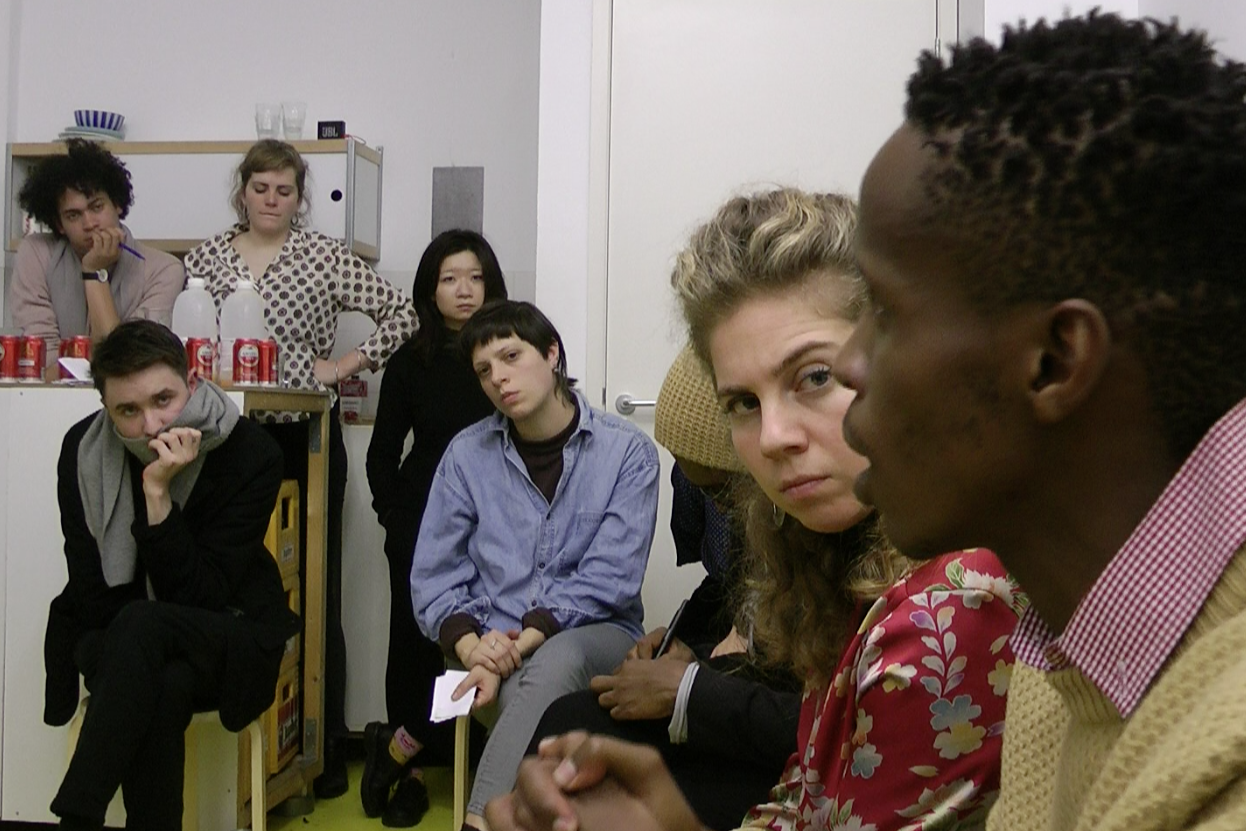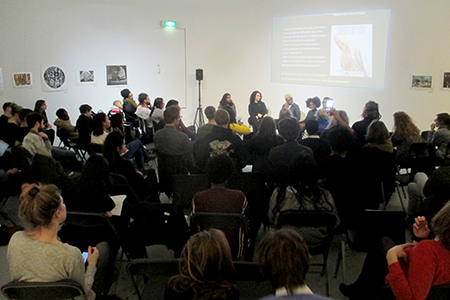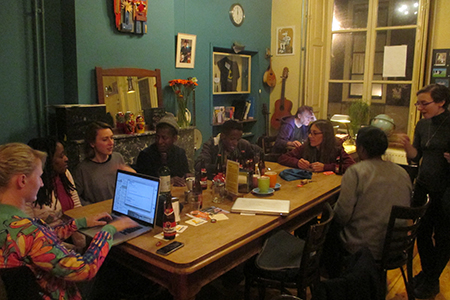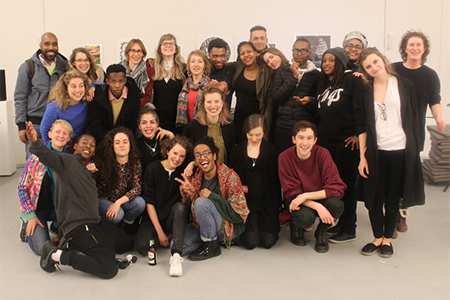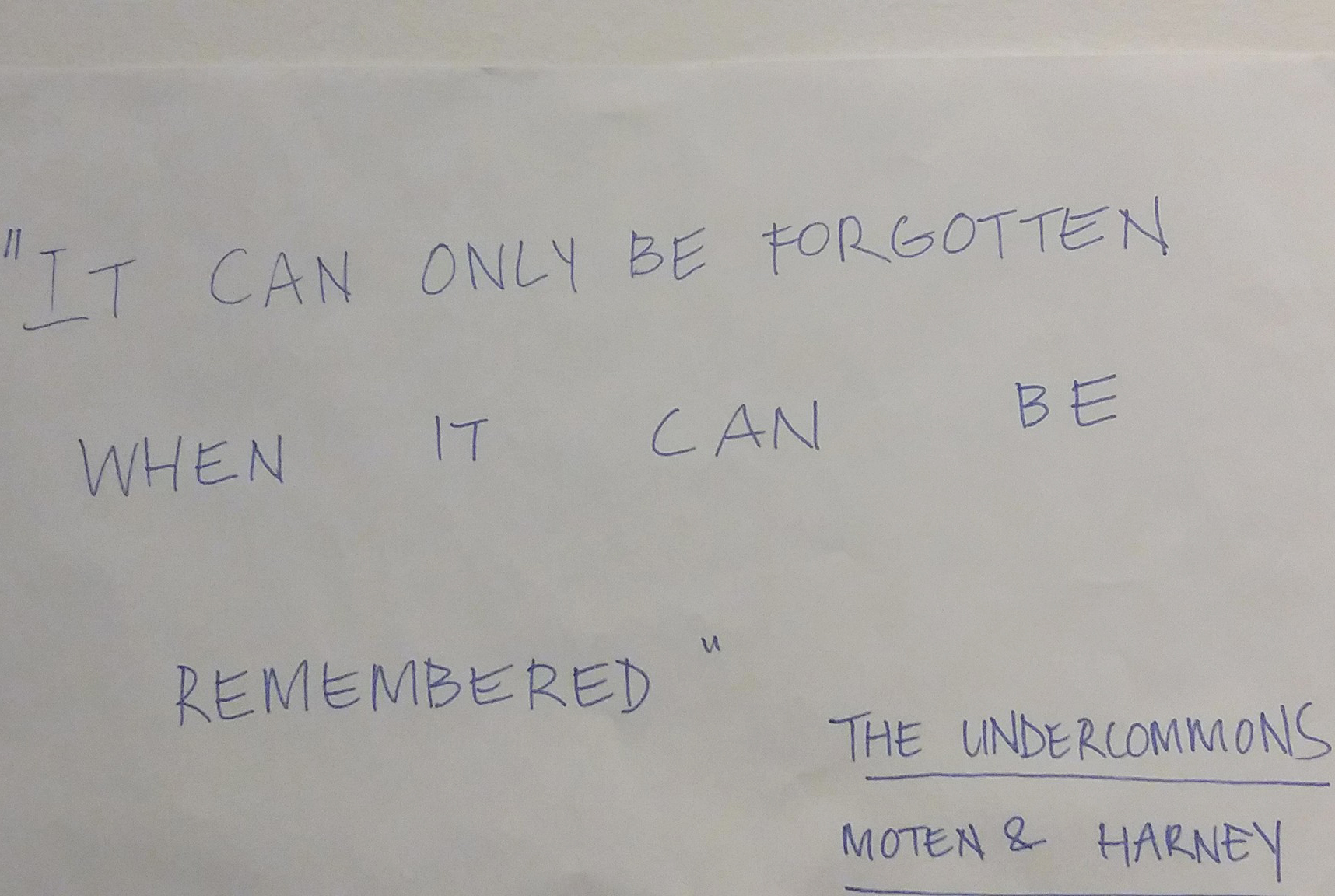 Disobedient Children
Solo exhibition at Kunstraum, London
, October - December 2015
Curated by Thomas Cuckle

And the images of sweating gladiators, their glistening muscles against a darkened sky, heavily breathing, dramatic music, the brave looking soldiers with their hands on their guns, the feet sinking in the swamps of the unknown lands, they mix with the television-channeled sword fighting knights, ancient temples on the news, it resonates so uncomfortably

Disobedient Children sets out to unravel the relationship between our own desires, and desires as they are formulated by others for us. The script investigates how identities could be produced differently and how one can be political within an increasingly neoliberal society. The visual language of the piece – the atmospheres which the work produces, the 3D generated landscapes, the use of digital glitches and technologically produced moire patterns – can be understood as a stand in for an unknown future, something which cannot be seen but the shape of which can already be discerned. – Thomas Cuckle

Event night with the participation of Maria Gorodeckaya, Megan Nolan, Rianna Jade Parker (The Lonely Londoners), Naomi Pearce and Nina Power

Music and sounds produced and performed by Jesse Osborne-Lanthier and Olle Holmberg

The video is available via Left Gallery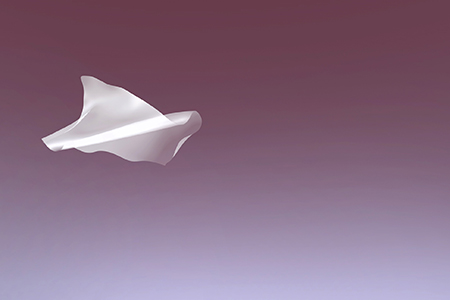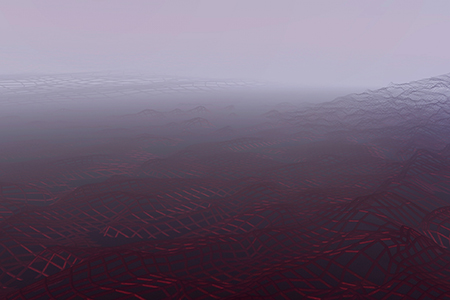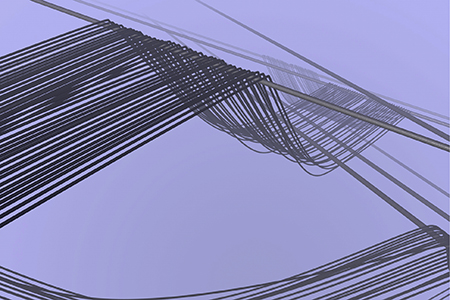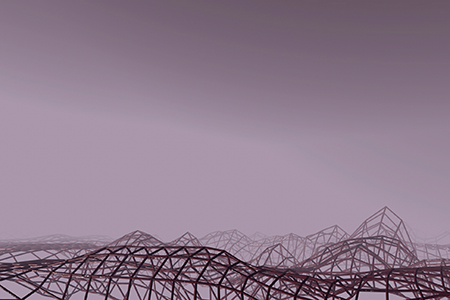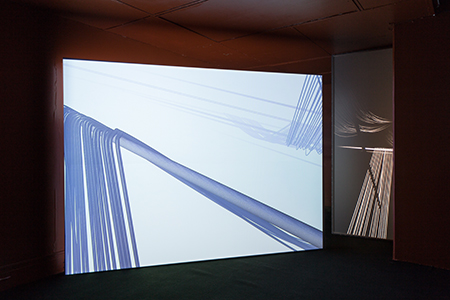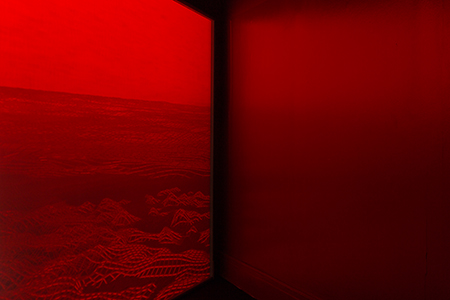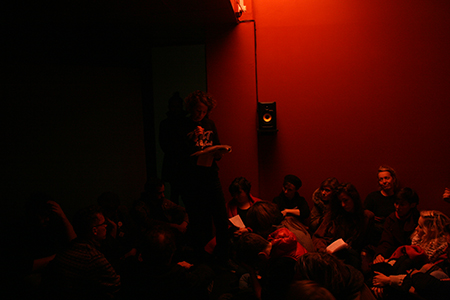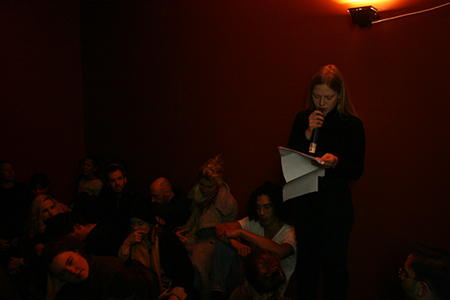 Between the Dog and the Wolf
Solo exhibition, South London Gallery, London, April - June 2015
In love at eight with Othello's Desdemona. On our strawberry iMac I draw her massive soprano body tightly folded in a blue silk dress. No images of the play to be found anywhere, this was before the internet. And at bedtime I tell him dragons don't exist, fear the real world instead.
Between the Dog and the Wolf is a multi-channel installation exploring female subjectivity, through a soundtrack of two female narrators combined with alternating projections of digital imagery. The work introduces two disembodied voices which resonate around the gallery as they deliver fragments of scripts. Memories of falling in love, reflections on female friendships, apprehensions of giving birth, visions of a mother and grandmother, and thoughts on feminist writings, are framed by the narrators' observations of their surroundings and daily routines.

Original music by Sami El-Enany; with a voice-over by Emma Bennett and Dorine van Meel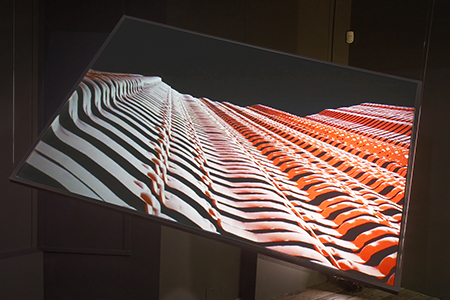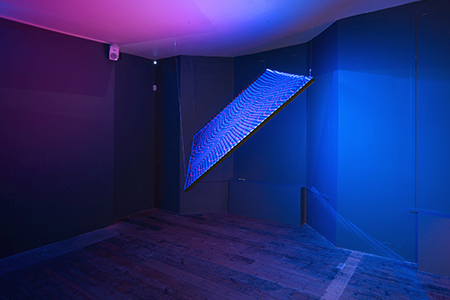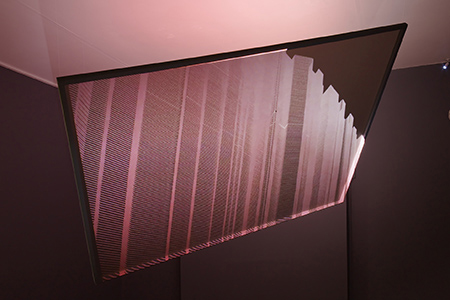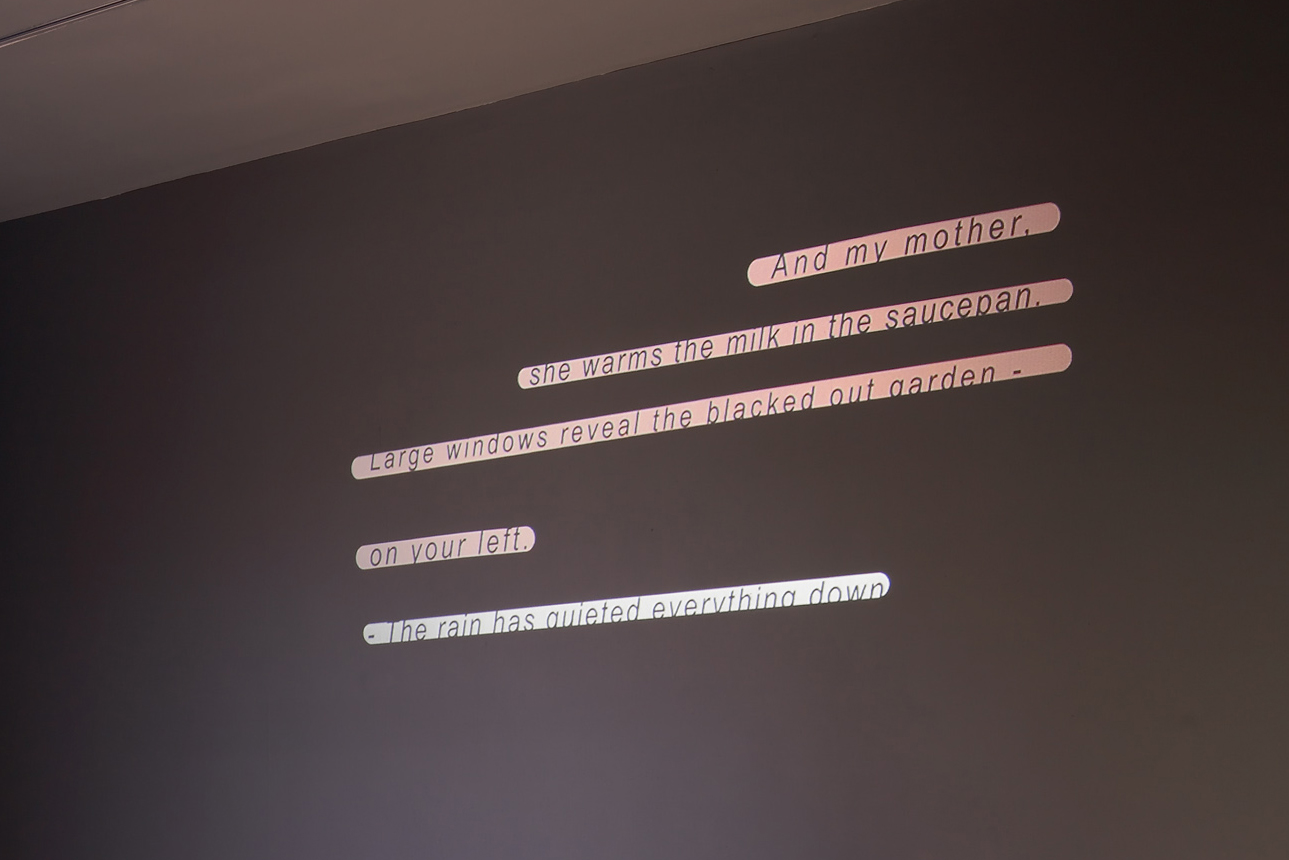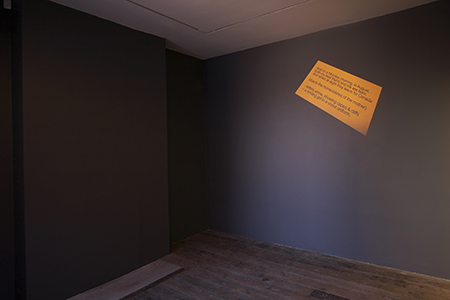 Some Place of Avoiding an Animal

Publication, South London Gallery, London, May 2015

Woke up from a dream about melting snow. The traffic has become louder already, it is 5.35am. The constant street lights withhold the room its natural darkness, birds are, forever singing.

Some Place of Avoiding an Animal is a writing project by artists and writers Emma Bennett, Jesse Darling, Susanna Davies-Crook, John Archibald Harrington, Kati Kärki, Claire Potter, Erica Scourti and Dorine van Meel. The resulting publication was designed by Rogier Delfos. The project was initiated by Dorine van Meel, as part of her 2014/15 Nina Stewart Artist Residency with the South London Gallery. The texts that form this publication were developed through a series of writing workshops led by guest artists including Pil and Galia, Melissa Gordon and Michael Dean. Aiming to voice their own (multiple) subjectivities against the backdrop of a society that is defined by the crisis and sadness of capitalism, the writers set out to address what could be meant by 'writing' as a mode in which these concerns are demonstrated.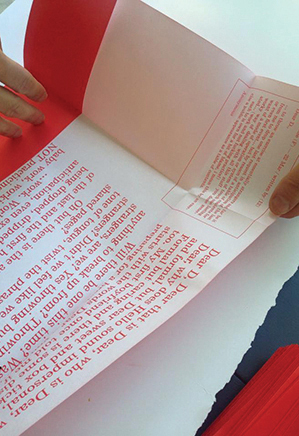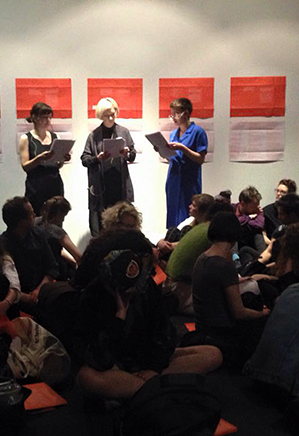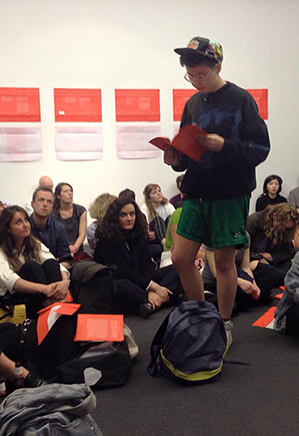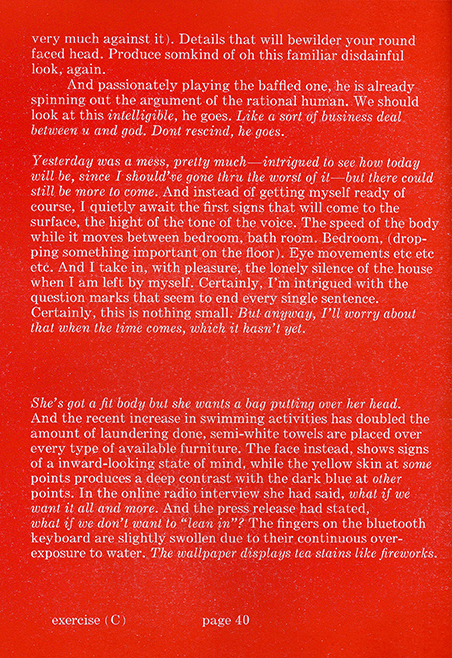 Does Not Equal

Exhibition and public programme, W139, Amsterdam
March - April 2015

Does Not Equal is a self-initiated and collaborative project that questions the creative potential, historical legacy and ongoing concerns of feminism. Featuring more than 35 international artists, writers and curators the project presents various and conflicting responses that interrogate issues of gender equality and female subjectivity.

With art works, lectures, interviews, music and screenings by Nana Adusei-Poku, Eva Barto, Gabrielle Le Bayon, Hannah Black, Jenna Bliss, Basje Boer, Ninna Bohn Pedersen, Adam Christensen, Susan Conte, E.C. Feiss, Rose-Anne Gush, Morag Keil, Kapwani Kiwanga, Fanny Kuitenbrouwer, Anne-Marie van Meel, Sands Murray-Wassink, Naomi Pearce, Diana Policarpo, Elina Suoyrjö, Karoline Swiezynski, Amalia Ulman, Deniz Unal, Lena Tutunjian, Shen Xin, e.a.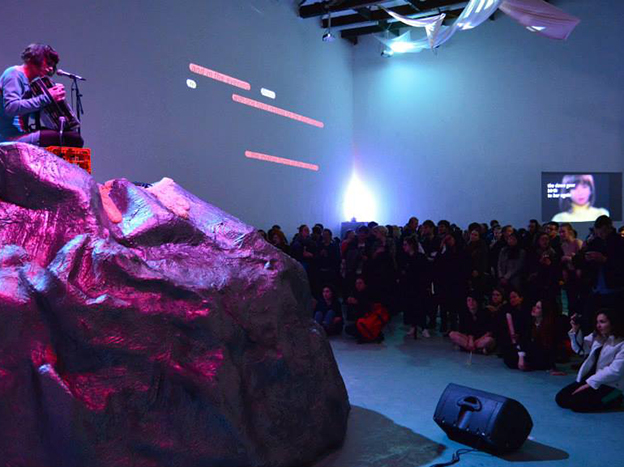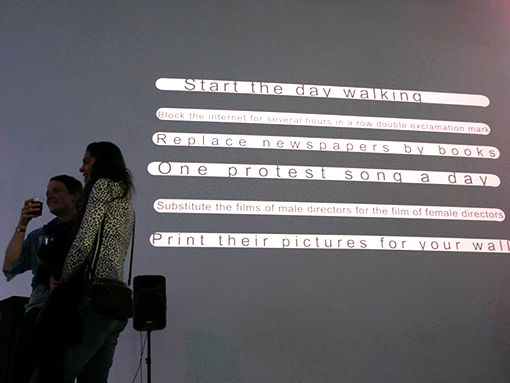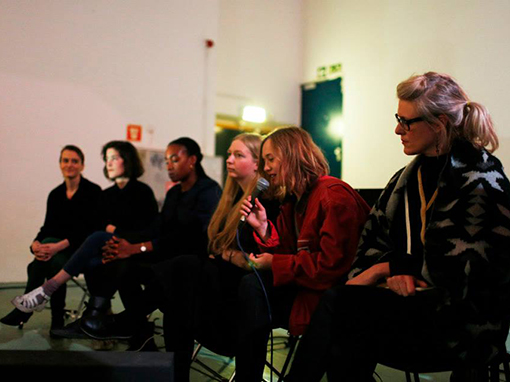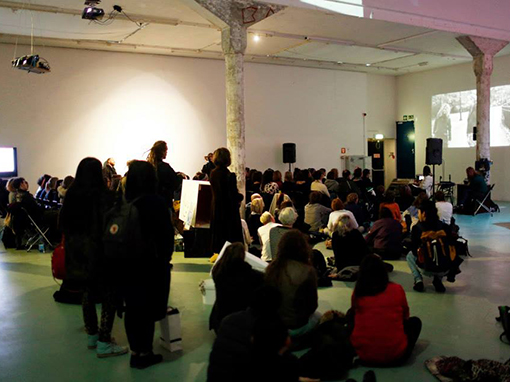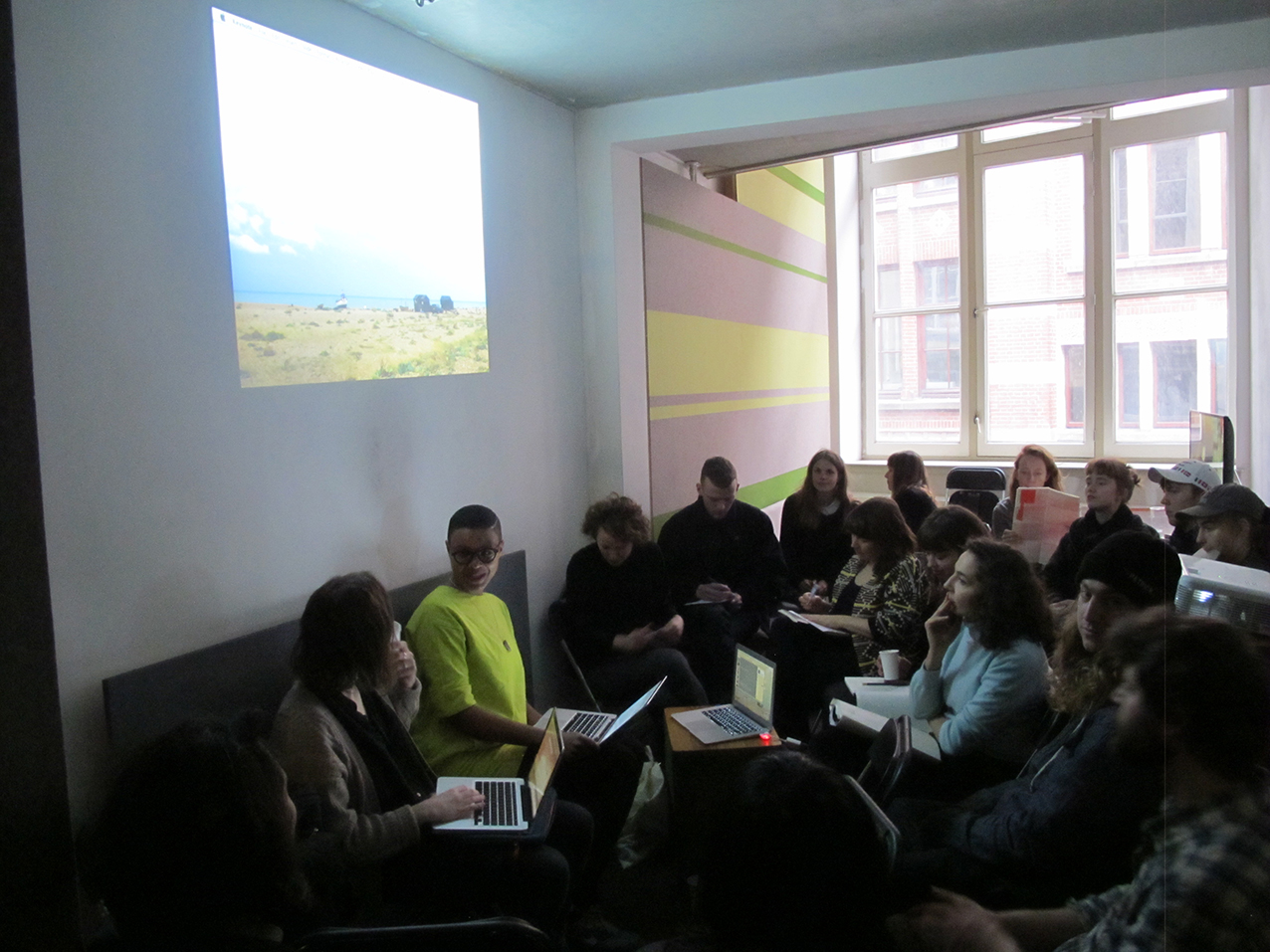 ...instead to meet strangers who might change our minds

Solo exhibition, Swiss Church, London, February - March, 2014
Curated by Adrienne Groen

We play our own plays, get drunk without no drinks. In bed we read, straining our eyes, unknown dimensions opening up, a blue glimmer lighting the pages. We are in love, we are disappointed. And we are disappointed, because our noses turn red from the cold and the bags under our eyes frighten us in the cold toilet lights. But even that, if you like, is poetry - a prolonged hesitation between sound and meaning. And the word happiness involves the word hap which refers to chance. And if we take a shower to be warm, we smell sweet, and quietly we move, because the parents have gone to bed. And we listen so carefully we listen, and we will notice the sounds that are usually ignored.

…instead, to meet strangers who might change our minds uses the architectural setting of the exhibition space to create a site specific video installation. The base of the script draws upon an email written by the artists' younger self at the age of sixteen, in which she discusses the multiple possibilities and aspirations of an undecided future. This commitment to text allows her to grasp at independence, setting out a romanticised proposal for individuality, that escapes the constraints of the existing systems and patterns of behaviour. – Adrienne Groen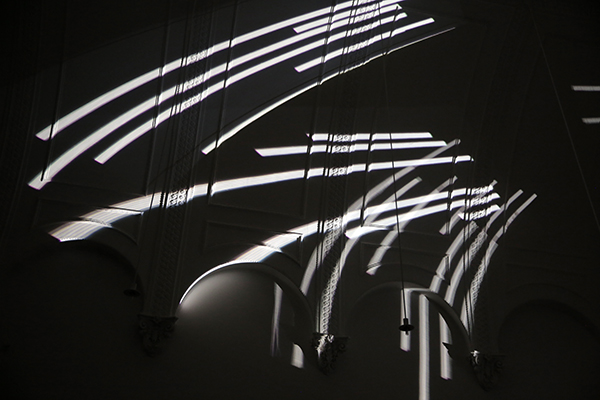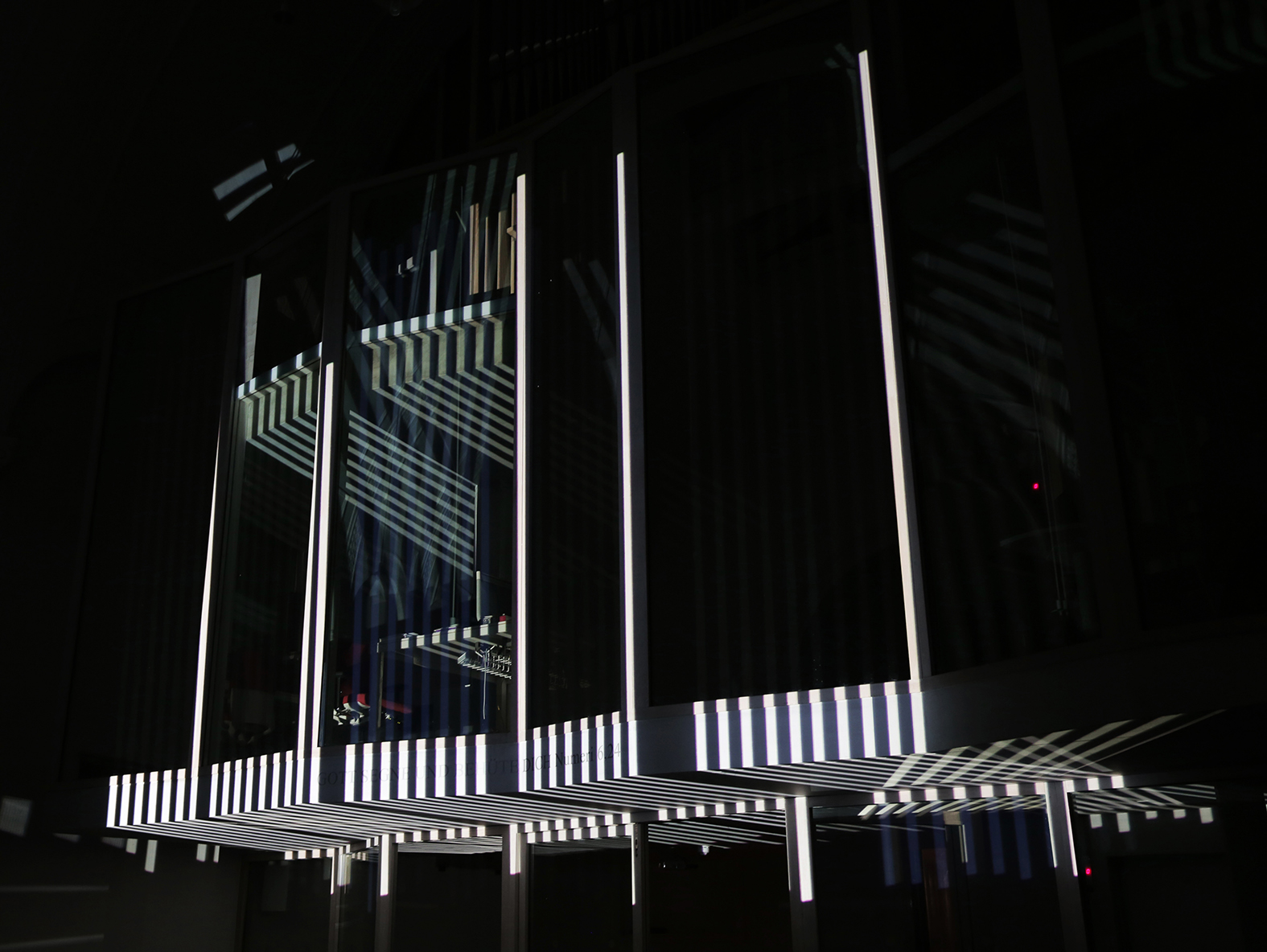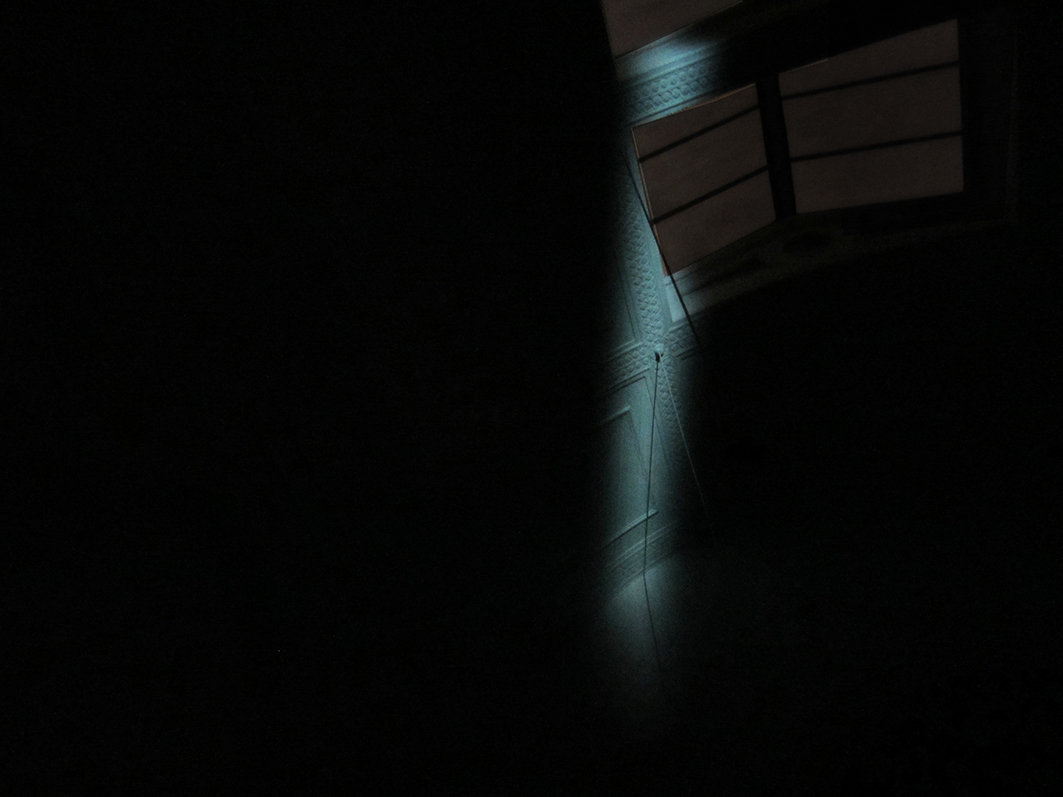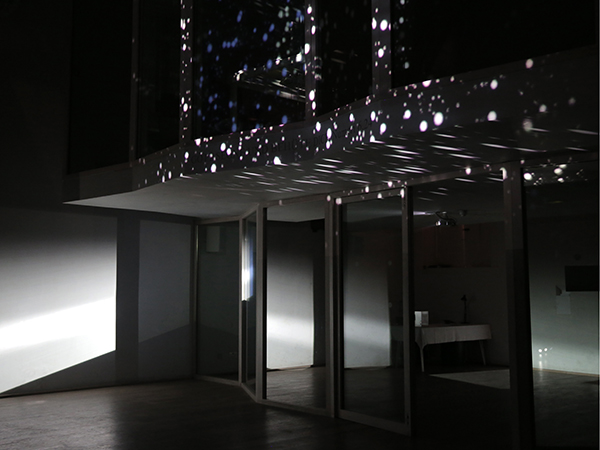 Luminous Flux

Exhibition and public programme, Arti et Amicitiae, Amsterdam, February - March 2014

Cinema was expanding. And as with the universe, I was looking at the light. Luminous flux. Its perceived power. Its exchange value. Relative to the human eye. And I ignored its main component. Which was darkness. But this time will be different. – J.A.Harrington

Luminous Flux is a self-initiated exhibition and symposium, which features seven London-based artists, working in and between the media of moving image, sculpture and installation. The exhibition is conceived as a continuous installation, inviting the viewer to navigate through its multiple rhythms, its immersive environments, its accelerating sounds and decelerating shadows, its colourful and non-linear narratives. In conjunction with the exhibition a symposium will take place where moving image practices' are placed within a wider social and political context. A central question will be how these digital art works participate in the constitution of social processes and how these processes can be understood.

With art works and lectures by Ninna Bohn Pedersen, Laura Buckley, Olivier Castel, David Ferrando Giraut, Matthias Tharang, Thomas Yeomans and lectures by Lisa Åkervall and Mike Sperlinger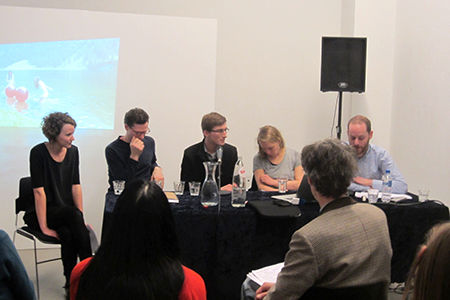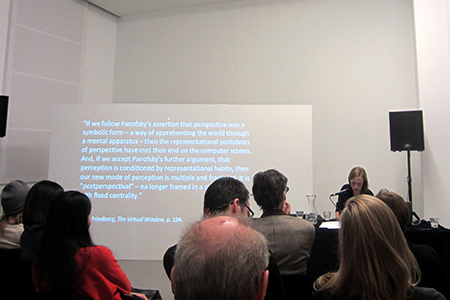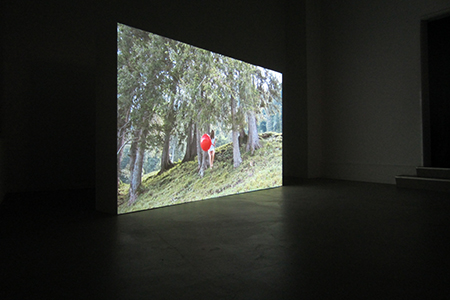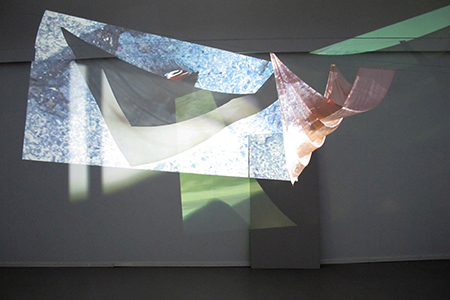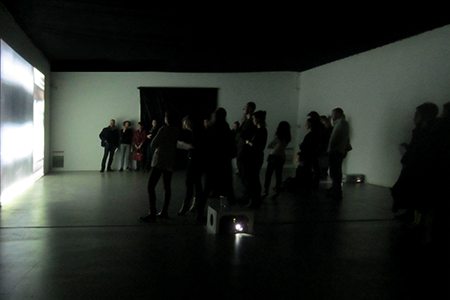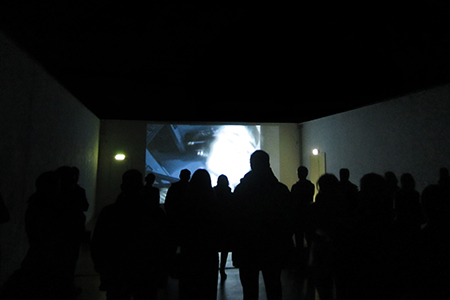 2022 Silent Echoes, Online exhibition, Pylon Lab
Plural Wombs workshop programme, Self-initiated project, Galerie Futura, Berlin
Silent Echoes, Performance event, South London Gallery, London
Phoenix's Last Song, Solo exhibition, Galerie Futura, Berlin
Onze Moeders Booklaunch, Screening, Perdu, Amsterdam
Silent Echoes, Solo exhibition, Die Digitale, Düsseldorf
Onze Moeders Booklaunch, Panel discussing and screening, Kaap, Oostende

2020 Abducting Europa, Group exhibition, IMPAKT Centre for Media Culture, Utrecht
Plural Wombs Research Group; Lesley-Ann Brown reads bell hooks, Self-initiated project, Kunstfort Vijfhuizen, Amsterdam and diffrakt, Berlin
On Plural Wombs and Disobedient Children, Artist talk, Stadelschule, Frankfurt
Plural Wombs Research Group; Luiza Prado reads Ailton Krenak, Self-initiated project, Kunstfort Vijfhuizen, Amsterdam and diffrakt, Berlin
Plural Fertilities, Group exhibition, Kunstfort Vijfhuizen, Amsterdam
Chasing Unborn Shadows, Group exhibition, Gossamer Fog Gallery, London
Other Classrooms: Care, Artist talk, Zurich University of the Arts, Zurich
Plural Wombs, Self-initiated collective project, W139, Amsterdam

2019 Ampersands, Group Exhibition, W139, Amsterdam
Jenseits des Mondes; 36th Kassel Docfest, Screening, KulturBahnhof Kassel
left gallery: rite of access, Group exhibition, Stroom, The Hague
Bio-Cultural Diversity and Hegemonic Power, Screening and artist talk, Groningen University
CAMPUS Fugitive; The Unexpected Beautiful Phrase, Performance event, Nottingham Contemporay, Nottingham
Persisting Realities, Group exhibition, CTM Festival, Kunstraum Bethanien, Berlin
Transmediale '19, Screening, HKW, Berlin
Phoenix's Last Song, Solo exhibition, Hotel Maria Kapel, Hoorn

2018 Beyond the Nation Station State I want to Dream, Solo exhibition, Decad, Berlin
AQNB's Assimilation Politics, Panel discussion, 3hd Festival, Berlin
Gentle Dust, Self initiated collective project, KW (Kunstwerke), Berlin Biennale X, Berlin
Repeats (Figures and Infrastructures), Group exhibition, Sixty-Eight Gallery, Copenhagen
A Farewell to Progress, Perfomance event, South London Gallery, London
MondayMeetings, Artist talk, Decad Project Space, Berlin

2017 A Farewell to Progress, Perfomance event, KW (Kunstwerke), Berlin
Ideology Meets Implementations, Group exhibition, W139
Lost Futures, Open City Documentary Festival, The Castle Cinema, London
Gentle Dust, Group exhibition, Showroom MAMA, Rotterdam
Library Talks, Artist talk, Rietveld Academie, Amsterdam
Illusionen.Verfallen, Zukunftsvisionen 2017 Festival, Görlitz
I Speak in Tongues, Group exhibition as part of Haarlemse Lente, 37K
Southern Summer School, Self initiated collective project, BAK, Utrecht
Northern Winter Workshops, Self initiated collective project, various locations in Amsterdam, Rotterdam, The Hague, Johannesburg and London
When Background Noise Comes to the Fore, Performative reading, Art Rotterdam, Rotterdam
Prospects & Concepts, Group exhibition, Art Rotterdam, Rotterdam
Transmediale 2017 Ever Elusive, Screening and Q & A, Haus der Kulturen der Welt, Berlin
De Mens in Opstand, Screening, SSBA Salon, Amsterdam
What the work does, Artist talk, Rietveld Academie, Amsterdam

2016 15th Annual Two Short Nights, Film screening, Exeter Phoenix, Exeter
Gentle Dust, Self initiated collective project, ROOM Gallery and Projects, Johannesburg
The Value of Visibility, Talk and panel discussion organised by Kunstvlaai, W139, Amsterdam
Exeter Contemporary Open, Group exhibition, Exeter Phoenix
Exeter Contemporary Open, Film screening, Exeter Phoenix
Gentle Dust, Self initiated collective project, Jupiter Woods, London
Left Gallery Summer Selection, Event, Neimeister Bar-Am, Berlin
Disobedient Children, Launch of the video as part of Left Gallery, Spike, Berlin
Artist talk, Gerrit Rietveld Academie, Amsterdam

2015 Night shift and The View, Permanent video installations, Jeroen Bosch Ziekenhuis, Den Bosch
Disobedient Children, Performative reading, Kunstraum, London
In Case of Doubt, Performative reading, Kunsthaus Hamburg, Hamburg
Disobedient Children, Solo exhibition, Kunstraum, London
Immersive Frames, Video screening on the monitors of the underground system of Mexico City, Offsite Project of Chalton Gallery, London
Index 15 & Berenberg Preis für junge Kunst, Group exhibition, Kunsthaus Hamburg, Hamburg
The Things We Talked About, Group exhibition, St Paul St Gallery, Auckland
Dorine van Meel in Conversation with Lucy Reynolds, South London Gallery, London
Passage voor de Zon, Film screening, Art Cinema OFFoff
Some Place of Avoiding an Animal, Performance event, South London Gallery, London
+1, In conversation with Thomas Cuckle at David Roberts Art Foundation, London
Wilderness, Group exhibition, New Shelter Plan, Copenhagen
Between the Dog and the Wolf, Solo exhibition, South London Gallery, London
Does Not Equal, Self initiated collective project, W139, Amsterdam

2014 My Vocabulary did this to me, Group exhibition, South London Gallery, London
A Space of No Exception, Group exhibition, Sokol Space, Moscow
Moscow International Biennale for Young Art, Film screening, Muzeon Summertime Movie Theatre
Here, the other side. Collective project, APT Gallery, London
...instead to meet strangers who might change our minds, Solo exhibition, The Swiss Church, London
Luminous Flux, Self initiated group exhibition and symposium, Arti et Amicitiae, Amsterdam

dorinevanmeel@gmail.com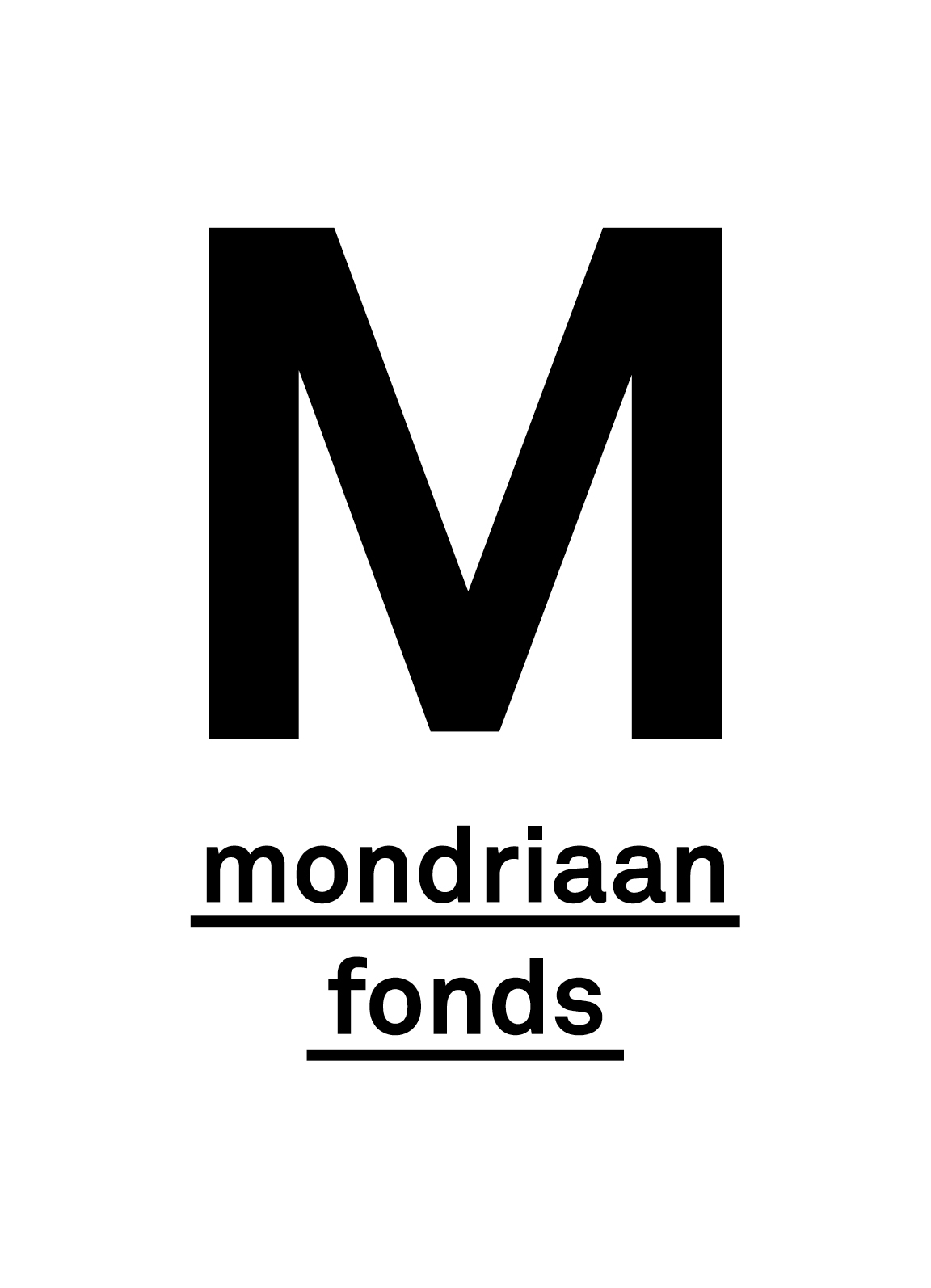 Supported by Mondriaan Fonds 2020 / 2022